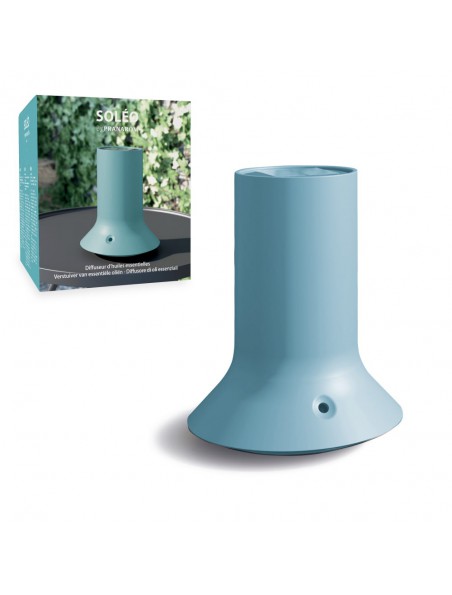 
Soleo Bleu - Essential oil diffuser Sans Thread - Pranarôm
Soleo Bleu of the laboratory Pranarôm is a wireless oildiffuser with an integrated solar cell

It is completely autonomous and can be carried anywhere thanks to its compact shape and rechargeable battery:outside to enjoy the summer in complete serenity,inside, in any room of the house, without needing to be near an outlet.

This diffuser will quickly become part of your daily life by easily bringing this personalized olfactory touch to all your indoor andoutdoor living spaces, for moments of well-being to recharge your batteries or to share with others in a convivial atmosphere.

 3 In stock
credit_card Secure payments: Credit cards, PayPal and Bank transfer
storeFrench Organic Herbalist located in Charleville-Mézières (Ardennes, France)
shopping_cart Shipping within 24 hours, Delivery within 7 days
Description:
Soleo Blue of the laboratory Pranarôm is a diffuser of wireless oils with a integrated solar cell

It is completely autonomous and can be carried anywhere thanks to its compact form and a rechargeable battery : at theexterior to enjoy the summer in all serenity, at theinteriorit can be used in any room of the house, without having to be near an outlet.

This diffuser will quickly become a part of your daily life by easily bringing that personalized olfactory touch in all your interior living spaces and theexteriorfor moments of well-being to recharge your batteries or to share in a friendly atmosphere.

Features:
There are 2 possibilities of loading the solar diffuser:
- By photovoltaic solar panel
- By USB cable

Dimensions 13 x 12,5 x 15,5cm
Adapter: 5V 1A
Power consumption: 800mA - 1000mA
Compatibility: 5ml, 10ml and 30ml bottles
Materials: PP plastic

Usage:
Sanit is easy to use and ready to diffuse immediately: just screw the bottle ofessential oils (10-30ml).
3 diffusion modes with automatic shut-off:
- Intense: 1 spray every 10 seconds for 1 hour
- Moderate: 1 spray every 30 seconds for 4 hours
- Minimum: 1 spray every 60 seconds for 8 hours

Change of bottle ofessential oil :
- Turn the diffuser upside down to keep the bottle upright with the neck facing up.
- Remove the cover, shake up and down for a minimum of 30 seconds (see drawing) so that theessential oil falls back into the bottle.
- It is recommended that the bottle be unscrewed from the base consistently and quickly to prevent EO from leaking out while the anti-leak valve is closed.
- To avoid any false manipulation, it is recommended to do this operation over a sink or any other protected surface.

Note: It is normal to see some EO residue on the dropper or base. Wipe the residue gently with an absorbent cloth.

Questions:
- How do I clean my diffuser?
Perform monthly maintenance. To do this, use pharmaceutical alcoholheat it slightly in a pan (40-50°C, a temperature at which you can still dip your finger without having to remove it right away!), and place it in the water tank.

Do not turn on the device, but let it soak for about ten minutes; remove the alcohol and clean with a cotton swab dipped in the same pharmaceutical alcohol. Do not insist on cleaning the membrane, which cleans itself by vibrating. Rinse with lukewarm water, and wipe roughly, without going to the bottom of the tank

- What surface area can I cover with this diffuser?
It is considered that a room of 30 m² on the ground can easily be saturated by the aromatic effluvia of a nebulizer in less than 15 minutes; however, the olfactory power may depend on two important factors: on the one hand the load ofessential oils deposited on the water bed, and on the other hand the 'closed' or 'open' character of the room (sensitivity to air currents, communications between rooms, etc.)

Precautions for use :
- The device may only be used with the recommended diffusing agents.
- Use of other substances may result in a toxic or fire hazard.
- This diffuser should only be used with the power supply provided.
- Do not expose the diffuser to a humid environment; protect from rain.
- This diffuser only works with essential oils or essential oil complexes. To avoid any risk of oxidation, do not use viscous and/or corrosive essential oils.
- Take note of the particular precautions for the diffusion of the mixtures (see notice) in the children's room according to the minimum recommended age.
- Diffuse in the absence of sensitive people (pregnant women, babies, people with asthma or who have suffered from convulsions) or sensitive animals.
- Do not use synthetic perfumes or essences that could irreparably damage the diffuser.
- Some essential oils are not recommended for diffusion. Avoid essential oils with phenols, ketones or aldehydes.
- Essential oils are active substances that must be used in moderation and respecting the dosage and the recommended diffusion time.
- Washing the hands after using essential oils. Always follow the detailed precautions for use of the essential oils used.

Warranty:
The legal warranty of 2 years is applicable to this product.
Your diffuser Pranarôm is under warranty for 2 years with proof of purchase. This warranty does not cover breakage but technical problems. In case of technical problems, we invite you to contact Louis who, according to their terms of service, will replace your diffuser or return it to Pranarôm for repair or replacement under warranty

The advice, information, recommendations, properties, indications, dosage, precautions for use etc. are provided for information purposes only.
---
Click here to discover all the herbal products equivalent to Soleo Bleu - Essential oil diffuser Sans Thread - Pranarôm of the category Diffusion of essential oils
---
Discover also at the herbalist's shop all the products Pranarôm
Louis Herboristerie Charleville-Mézières
36 rue de la république
08000 Charleville-Mézières
Metropolitan France
| | |
| --- | --- |
| Mon. | 14h00 - 19h00 |
| Tue. | 10h00 - 19h00 |
| Wed. | 10h00 - 19h00 |
| Thu. | 10h00 - 19h00 |
| Fri. | 10h00 - 19h00 |
| Sat. | 10h00 - 19h00 |
| Sun. | Fermé |
Louis Herboristerie Carignan ( Centre logistique )
12 Rue du Champ Raymond
Retrait des colis Click & Collect dans la journée hors jours fériés du Lundi au Vendredi de 08h00 à 18h00.
08110 Carignan
Metropolitan France
| | |
| --- | --- |
| Mon. | 08h00 - 18h00 |
| Tue. | 08h00 - 18h00 |
| Wed. | 08h00 - 18h00 |
| Thu. | 08h00 - 18h00 |
| Fri. | 08h00 - 18h00 |
| Sat. | Fermé |
| Sun. | Fermé |
Vos derniers avis
Soleo Bleu - Essential oil diffuser Sans Thread - Pranarôm
Avis sur l'Herboristerie
Voir les avis sur l'herboristerie
Related articles on blog
No related article on blog