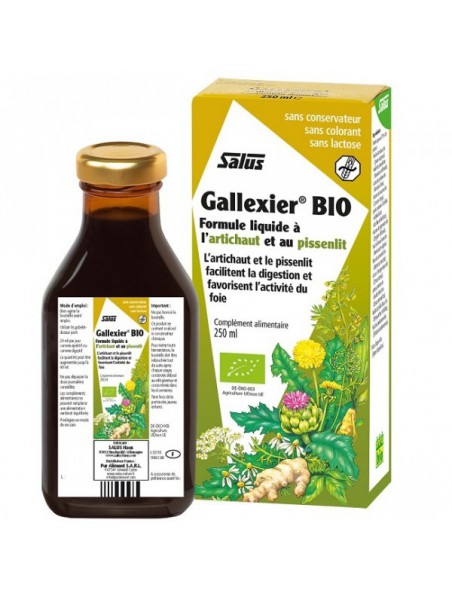 
Gallexier Bio - Aperitif and digestive 250 ml - Salus
Liver detox.

Difficult digestion.

Lack of appetite.
 9 In stock
credit_card Secure payments: Credit cards, PayPal and Bank transfer
storeFrench Organic Herbalist located in Charleville-Mézières (Ardennes, France)
shopping_cart Shipping within 24 hours, Delivery within 7 days
Gallexier BIO is a biostimulant of the gastro-intestinal functions, a digestive tonic containing 12 plant extracts including dandelion and artichoke extracts.

Dandelion: to stimulate the appetite.
Artichoke: to facilitate the digestion of fats
The combined action of the various active plants stimulates the functions of the liver and the gall bladder and thus avoids the discomfort felt after a heavy meal

Suitable for vegetarians.

Composition
-Aqueous extracts of organic digestive plants (artichoke, dandelion, gentian, yarrow, fennel, chamomile, blessed thistle).
-Organic spices (ginger, turmeric, cardamom).
-Organic sweet orange peel.
-Organic water clover.
-Organic agave syrup.

Aqueous extract (75%) of plants:
Organic artichoke leaf (Cynara scolymus), organic dandelion leaf (Taraxacum officinale), organic gentian root (Gentiana lutea), organic turmeric rhizome (Curcuma longa), organic yarrow aerial part (Achillea millefolium), organic ginger rhizome (Zingiber officinale), organic bitter fennel fruit (Foeniculum vulgare), organic chamomile flower (Matricaria recutita), organic sweet orange peel (Citrus sinensis), organic blessed thistle aerial part (Cnicus benedictus), organic water clover leaf (Menyanthes trifoliata), organic cardamom fruit (Elettaria cardamomum). Organic agave syrup (Agave tequilana).

Sans: alcohol, preservative, coloring, artificial flavor, lactose.

Indications
Lack of appetite.
Difficult digestion.
Bloating and flatulence.
Lazy bladder.

Use
10 to 15 ml per dose before or after meals.

In active treatment : 15 ml morning and evening.
In maintenance: 15 ml in the evening after the meal or 20 ml in the morning on an empty stomach.

Cure of 10 to 20 days, renewable. In maintenance, can be taken continuously. Seasonal cures recommended. Can also be taken occasionally in case of temporary digestive heaviness.

Special precautions :
Pregnancy : divide the doses by two after medical advice.


Packaging :
Bottle of 250 ml.

Label :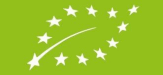 Discover the whole range of fresh plant juices !



This site is not a medical site.
The advice, information, recommendations, properties, indications, dosage, precautions for use etc. are provided for information only.
Our advice cannot replace the advice of your doctor or therapist.
Under no circumstances does the information given on our site constitute a prescription.
Only your doctor can give you a precise diagnosis and recommend the use of a product.
If this is not the case, we cannot be held responsible for the inappropriate use of the products presented.
---
Click here to discover all the herbal products equivalent to Gallexier Bio - Aperitif and digestive 250 ml - Salus of the category Fresh plant juices
---
Discover also at the herbalist's shop all the products Salus
All progress is linked to the activities of exceptional personalities. This is also the case for the company Salus thanks to the medical doctor Otto Greither (1867-1930). Motivated by a serious illness, he began researching health problems and came to the basic conclusion that many illnesses are caused by digestive disorders. He developed the medical concept of "the cure" Salus, which he began to implement in 1916 in a factory in Munich that manufactured the necessary medication.

In 1927, only eleven years after the company was founded Salus, Salus health products were on sale throughout Germany. Salus soon became the leading edge of a healing movement and business philosophy whose aim was to integrate social, ecological and health aspects for mutual benefit.

In terms of the origin of the raw materials, their composition and their production, Salus products remain "as close as possible" to nature and thus serve to maintain and promote well-being.
Louis Herboristerie Charleville-Mézières
36 rue de la république
08000 Charleville-Mézières
Metropolitan France
| | |
| --- | --- |
| Mon. | 14h00 - 19h00 |
| Tue. | 10h00 - 19h00 |
| Wed. | 10h00 - 19h00 |
| Thu. | 10h00 - 19h00 |
| Fri. | 10h00 - 19h00 |
| Sat. | 10h00 - 19h00 |
| Sun. | Fermé |
Louis Herboristerie Carignan ( Centre logistique )
12 Rue du Champ Raymond
Retrait des colis Click & Collect dans la journée hors jours fériés du Lundi au Vendredi de 08h00 à 18h00.
08110 Carignan
Metropolitan France
| | |
| --- | --- |
| Mon. | 08h00 - 18h00 |
| Tue. | 08h00 - 18h00 |
| Wed. | 08h00 - 18h00 |
| Thu. | 08h00 - 18h00 |
| Fri. | 08h00 - 18h00 |
| Sat. | Fermé |
| Sun. | Fermé |
Vos derniers avis
Gallexier Bio - Aperitif and digestive 250 ml - Salus
Avis sur l'Herboristerie
Voir les avis sur l'herboristerie