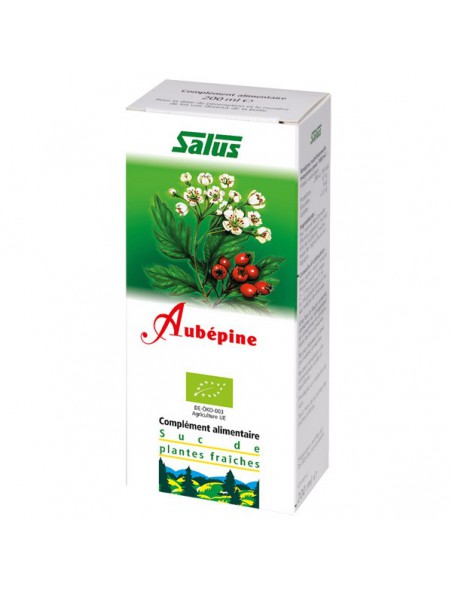 
Hawthorn Bio - fresh plant juice 200 ml - Salus
Circulation problems.

Anxiety.

Sleep disorders

 7 In stock
credit_card Secure payments: Credit cards, PayPal and Bank transfer
storeFrench Organic Herbalist located in Charleville-Mézières (Ardennes, France)
shopping_cart Shipping within 24 hours, Delivery within 7 days
Hawthorn is the plant of the heart, both protective and stimulating circulation.
It helps to calm nervous tension, small anxieties, chest tightness due to stress and promotes a restful sleep.

It is an excellent plant to take in many circumstances and regularly from the age of 50. It preserves the entire cardiovascular system.

It is traditionally recommended for people who are tense, anxious and prone to palpitations.

The fresh juice contains the most active principles of the plant.

Composition
Natural hawthorn juice(Crataegus monogyna, Crataegus oxyacantha, leaves, flowers and berries) from the fresh plant from organic farming, drinking water.

Sans : alcohol, preservative, colouring, artificial flavouring, lactose.

Suitable for vegetarians.

Indications
High blood pressure.
Circulation disorders.
Sleep disorders.
Stress.

Use :
10 ml three times a day, preferably before meals.

Packaging:
Bottle of 200 ml.

Label: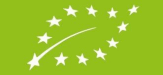 Discover the whole range of fresh plant juices!



This site is not a medical site.
The advice, information, recommendations, properties, indications, dosage, precautions for use etc. are provided for information only.
Our advice cannot replace the advice of your doctor or therapist.
Under no circumstances does the information given on our site constitute a prescription.
Only your doctor can give you a precise diagnosis and recommend the use of a product.
If this is not the case, we cannot be held responsible for the inappropriate use of the products presented.
---
Click here to discover all the herbal products equivalent to Hawthorn Bio - fresh plant juice 200 ml - Salus of the category Fresh plant juices
---
Discover also at the herbalist's shop all the products Salus
All progress is linked to the activities of exceptional personalities. This is also the case for the company Salus thanks to the medical doctor Otto Greither (1867-1930). Motivated by a serious illness, he began researching health problems and came to the basic conclusion that many illnesses are caused by digestive disorders. He developed the medical concept of "the cure" Salus, which he began to implement in 1916 in a factory in Munich that manufactured the necessary medication.

In 1927, only eleven years after the company was founded Salus, Salus health products were on sale throughout Germany. Salus soon became the leading edge of a healing movement and business philosophy whose aim was to integrate social, ecological and health aspects for mutual benefit.

In terms of the origin of the raw materials, their composition and their production, Salus products remain "as close as possible" to nature and thus serve to maintain and promote well-being.
Louis Herboristerie Charleville-Mézières
36 rue de la république
08000 Charleville-Mézières
Metropolitan France
| | |
| --- | --- |
| Mon. | 14h00 - 19h00 |
| Tue. | 10h00 - 19h00 |
| Wed. | 10h00 - 19h00 |
| Thu. | 10h00 - 19h00 |
| Fri. | 10h00 - 19h00 |
| Sat. | 10h00 - 19h00 |
| Sun. | Fermé |
Louis Herboristerie Carignan ( Centre logistique )
12 Rue du Champ Raymond
Retrait des colis Click & Collect dans la journée hors jours fériés du Lundi au Vendredi de 08h00 à 18h00.
08110 Carignan
Metropolitan France
| | |
| --- | --- |
| Mon. | 08h00 - 18h00 |
| Tue. | 08h00 - 18h00 |
| Wed. | 08h00 - 18h00 |
| Thu. | 08h00 - 18h00 |
| Fri. | 08h00 - 18h00 |
| Sat. | Fermé |
| Sun. | Fermé |
Vos derniers avis
Hawthorn Bio - fresh plant juice 200 ml - Salus
Avis sur l'Herboristerie
Voir les avis sur l'herboristerie