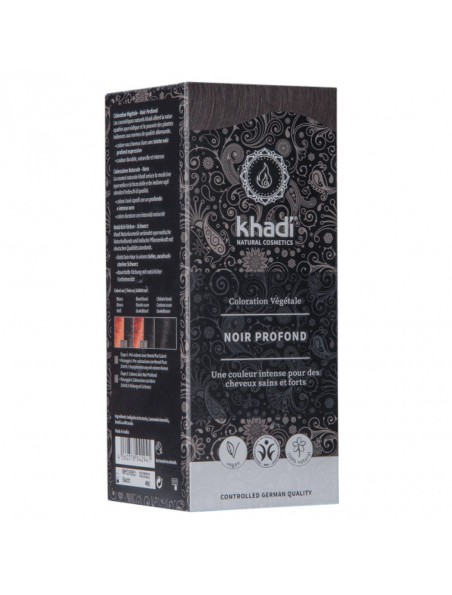 
Coloration Noire - Henna and Ayurvedic Herbs Powder 100g - Khadi
The herbal dye Khadi "Black" is ideal for giving hair a fiery black colour

Protects, coats and cares for the hair, strengthening it and restoring its shine and brilliance in a single application

The 100g bag is sufficient for medium-length hair, whether already coloured or not.

 Not in stock
Our alternatives while waiting for the return of this product:
credit_card Secure payments: Credit cards, PayPal and Bank transfer
storeFrench Organic Herbalist located in Charleville-Mézières (Ardennes, France)
shopping_cart Shipping within 24 hours, Delivery within 7 days

Description:
The herbal dye Khadi "Indigopur blue" is ideal for giving hair to the hair a fiery black

Its direct use on blonde, blond or greying hair is not recommended.

Ayurvedic herbal tinctures KhadiThis henna powder is 100% natural. This henna powder contains other ayurvedic plants such as amla, indigo and neem, added for their strengthening virtues

The time of pause is shortened (from 30 minutes to 2h30 maximum and from 15 minutes to 1 hour for blonds) compared to other traditional henna and this thanks to the exceptional fineness of the grinding

Properties :
- • Can be used on all types of hair (natural or already colored).
- • Protects, coats and cares for the hair, strengthening it and restoring its shine and radiance in a single application
- • Purifying and antibacterial action on the scalp thanks to Neem
- • Limits hair loss thanks to amla

Use:
- • Can be used on all types of hair (natural or already colored).
- • Dilute the henna powder in water at about 50° or in black tea (caution: for indigo shades, the temperature must not exceed 50°, at a higher temperature, the dye may take on a reddish colour)
- • Mix until you obtain a malleable paste (it must not, under any circumstances, become cold or dry)
- • Apply strand by strand to hair previously washed with a neutral shampoo containing no silicone
- • The application time can last several hours depending on the nature of the hair and the desired result

Always refer to the supplied operating instructions.

Colour chart :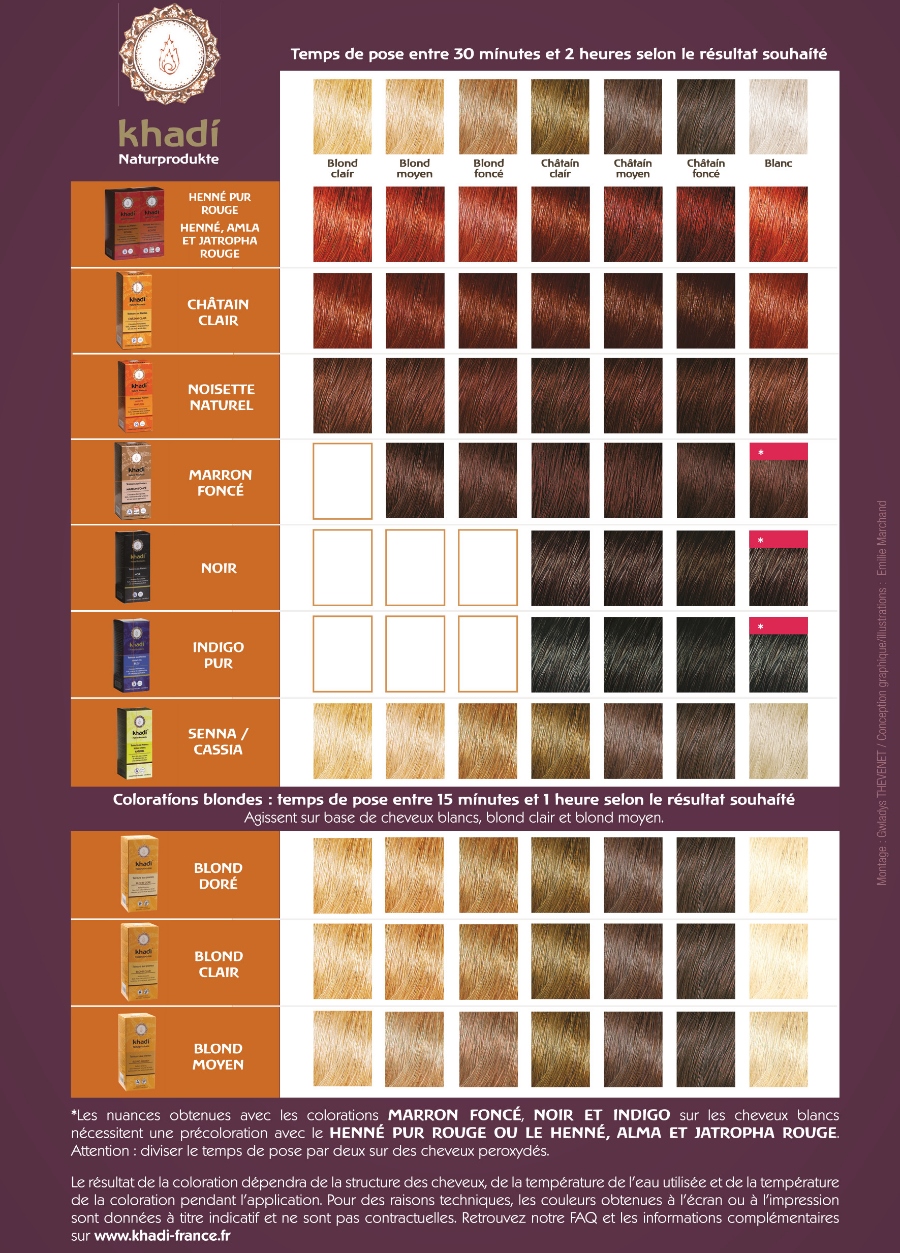 Label:



Guaranteed 100% natural, without preservatives or coloring
Certified BDIH.

Composition:
Indigofera Tinctoria (indigo tree) - Lawsonia Inermis (henna) - Emblica Officinalis (amla).

Packaging:
Bag of 100 grams. 1 bottle is enough for medium-length hair. Charlotte and gloves included

Brand:
Herbal tinctures Khadi are the reference in the field of natural hair colouring!
BDIH certified, they provide permanent colouring, care, volume and luminous shine in a single application. These dyes are prepared in India according to ancestral ayurvedic recipes
Unique in their composition and quality, these hair colours are of exceptional quality and colour intensity.

Discover the whole range of natural tinctures of the herbalist's shop.

Click here for a list of products Khadi.
---
Click here to discover all the herbal products equivalent to Coloration Noire - Henna and Ayurvedic Herbs Powder 100g - Khadi of the category Henna hair dyes and ayurvedic plants
---
Discover also at the herbalist's shop all the products Khadi
Khadi products with the BDIH label bring body, mind and soul into harmony.

The body of the Khadi Elixir is made up of herbs from small Indian cooperatives, grown under the powerful Indian sun and lovingly hand-picked.

The recipes are based on unique blends of active ingredients derived from the most ancient medicine of mankind, Ayurveda. It is in them that the spirit of Khadi resides.

Their hair colours are 100% plant-based. Ayurvedic herbs, roots and leaves, which naturally have a strong colour intensity, complement each other and combine to form an exceptional whole.
Louis Herboristerie Charleville-Mézières
36 rue de la république
08000 Charleville-Mézières
Metropolitan France
| | |
| --- | --- |
| Mon. | 14h00 - 19h00 |
| Tue. | 10h00 - 19h00 |
| Wed. | 10h00 - 19h00 |
| Thu. | 10h00 - 19h00 |
| Fri. | 10h00 - 19h00 |
| Sat. | 10h00 - 19h00 |
| Sun. | Fermé |
Louis Herboristerie Carignan ( Centre logistique )
12 Rue du Champ Raymond
Retrait des colis Click & Collect dans la journée hors jours fériés du Lundi au Vendredi de 08h00 à 18h00.
08110 Carignan
Metropolitan France
| | |
| --- | --- |
| Mon. | 08h00 - 18h00 |
| Tue. | 08h00 - 18h00 |
| Wed. | 08h00 - 18h00 |
| Thu. | 08h00 - 18h00 |
| Fri. | 08h00 - 18h00 |
| Sat. | Fermé |
| Sun. | Fermé |
Vos derniers avis
Coloration Noire - Henna and Ayurvedic Herbs Powder 100g - Khadi
Avis sur l'Herboristerie
Voir les avis sur l'herboristerie