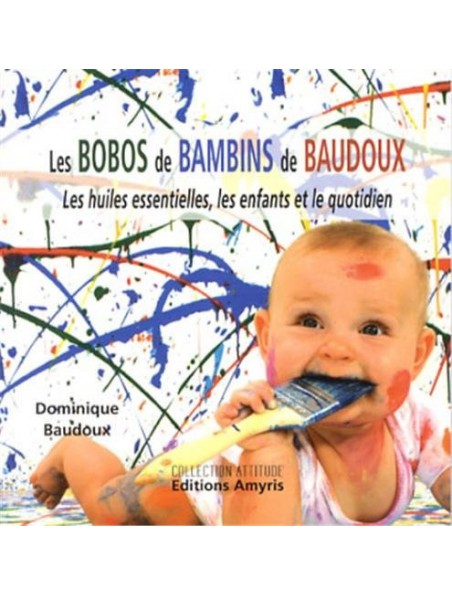 
Baudoux's Bobos des Bambins - 74 pages - Dominique Baudoux
Essential oils, children and everyday life.
 2 In stock
credit_card Secure payments: Credit cards, PayPal and Bank transfer
storeFrench Organic Herbalist located in Charleville-Mézières (Ardennes, France)
shopping_cart Shipping within 24 hours, Delivery within 7 days
To open the minds of parents on the infinite possibilities of essential oils and to consider the natural alternative for the thousand and one aches and pains in the life of their children...

To offer the best to his child from 0 to 8 years and more if affinity with these plant quintessences...
On the basis of twenty essential oils, transform the daily life of his family... Book of 71 pages.






Warning: this site is not a medical site.
The advice, information, recommendations, properties, indications, dosage, precautions for use etc. are provided for information only.
Our advice cannot replace the advice of your doctor or therapist.
Under no circumstances does the information given on our site constitute a prescription.
Only your doctor can give you a precise diagnosis and recommend the use of a product.
If this is not the case, we cannot be held responsible for the inappropriate use of the products presented.
---
Click here to discover all the herbal products equivalent to Baudoux's Bobos des Bambins - 74 pages - Dominique Baudoux of the category Livres
---
Discover also at the herbalist's shop all the products Livres
Louis Herboristerie Charleville-Mézières
36 rue de la république
08000 Charleville-Mézières
Metropolitan France
| | |
| --- | --- |
| Mon. | 14h00 - 19h00 |
| Tue. | 10h00 - 19h00 |
| Wed. | 10h00 - 19h00 |
| Thu. | 10h00 - 19h00 |
| Fri. | 10h00 - 19h00 |
| Sat. | 10h00 - 19h00 |
| Sun. | Fermé |
Louis Herboristerie Carignan ( Centre logistique )
12 Rue du Champ Raymond
Retrait des colis Click & Collect dans la journée hors jours fériés du Lundi au Vendredi de 08h00 à 18h00.
08110 Carignan
Metropolitan France
| | |
| --- | --- |
| Mon. | 08h00 - 18h00 |
| Tue. | 08h00 - 18h00 |
| Wed. | 08h00 - 18h00 |
| Thu. | 08h00 - 18h00 |
| Fri. | 08h00 - 18h00 |
| Sat. | Fermé |
| Sun. | Fermé |
Baudoux's Bobos des Bambins - 74 pages - Dominique Baudoux