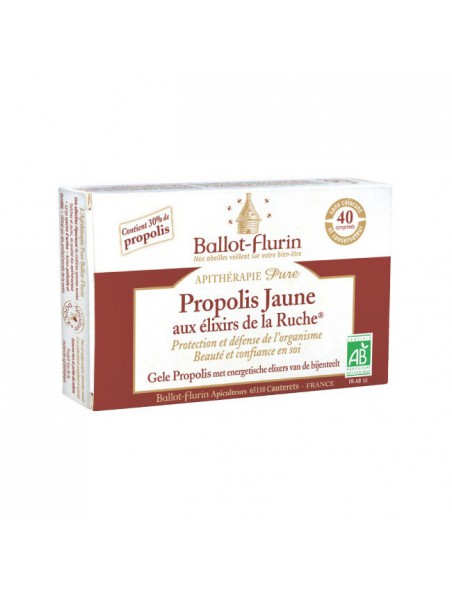 
Yellow propolis with organic hive Elixirs - Protection and defence of the body
Nutricosmetic food supplement. Purify your skin from the inside and act positively on your emotions with our tablets with yellow propolis from the mountains of France
 Not in stock
Our alternatives while waiting for the return of this product:
credit_card Secure payments: Credit cards, PayPal and Bank transfer
storeFrench Organic Herbalist located in Charleville-Mézières (Ardennes, France)
shopping_cart Shipping within 24 hours, Delivery within 7 days
20 days cure.
This innovative nutricosmetic food supplement is highly concentrated in French yellow propolis for a deep and lasting action:
Strengthens natural defences.
Purifying, tonic and remineralizing: natural aggressions (cold, sun, wind), temporary digestive discomforts, balances the urinary system and vaginal flora.
Nutricosmetic: encourages the construction of the skin's major components (collagen and elastin). Helps to purify oily and juvenile skin.
Emotional life: Hivewood Elixir, a high dilution of dynamised propolis mother essence, protects our immune defence system from harmful emotions, and helps us to keep control of events without feeling threatened.
Did you know that? Nutricosmetics or cosmetofood is the action of nourishing the skin from within by eating food enriched with active ingredients.
An exceptional quality
Artisanal production from our bees, raised with love
Exclusive gentle process of obtaining on a bed of whiteclay
100% organic beekeeping materials from our beehives in local micro-terroirs
Maximum concentration: 30% dry extract of yellow propolis from the mountains of France
Production limited to 550 units/month.
22g box containing 40 tablets.
Immediate defence: take 2 tablets morning, noon and evening to be chewed or swallowed, for 5 days.
Purifying and protective cure (to purify the organism, to correct juvenile imperfections, to have a clear skin which breathes): in spring and autumn, take one tablet morning and evening during 20 days.
Children over 36 months: under adult supervision, give one tablet a day crushed and mixed into food.
Recommended daily dose:
Adult: 6 tablets (propolis extract = 990mg
)Child: 1 tablet (propolis extract = 165mg)
Food supplement. Do not exceed the indicated daily dose.
Does not replace a varied and balanced diet and a healthy life.

Ingredients :
Dehydrated rice syrup*, dry extract of propolis* (30%), magnesiumcarbonate (13,3%), silica (1,7%), sunflower oil*.

*Ingredients from organic farming
Certified by Qualité-France SAS - Le Guillaumet 92046 Paris La Défense.
Box of 22g containing 40 tablets.
Sans no synthetic additives.
Natural scent from the ingredients.
Product not tested on animals.
This site is not a medical site.
The advice, information, recommendations, properties, indications, dosage, precautions for use etc. are provided for information purposes only.
Our advice cannot replace the advice of your doctor or therapist.
Under no circumstances does the information given on our site constitute a prescription.
Only your doctor can give you a precise diagnosis and recommend the use of a product.
If this is not the case, we cannot be held responsible for the inappropriate use of the products presented.
---
Click here to discover all the herbal products equivalent to Yellow propolis with organic hive Elixirs - Protection and defence of the body - Ballot-Flurin of the category Natural resistance of the body
---
Discover also at the herbalist's shop all the products Ballot-Flurin

In the heart of the Hautes-Pyrénées, Ballot-Flurin is a family api-company founded and run by a woman, Catherine Flurin

Its energized apitherapy preparations are made in small batches, with love and full awareness, in its Bee Factory, the first organic and sensitive garden factory in the world

With GENTLE BEEKEEPING®, Ballot-Flurin fights for free bees by combating their disappearance. It protects their territories and reinforces their well-being and freedom beyond the official organic standards.
Louis Herboristerie Charleville-Mézières
36 rue de la république
08000 Charleville-Mézières
Metropolitan France
| | |
| --- | --- |
| Mon. | 14h00 - 19h00 |
| Tue. | 10h00 - 19h00 |
| Wed. | 10h00 - 19h00 |
| Thu. | 10h00 - 19h00 |
| Fri. | 10h00 - 19h00 |
| Sat. | 10h00 - 19h00 |
| Sun. | Fermé |
Louis Herboristerie Carignan ( Centre logistique )
12 Rue du Champ Raymond
Retrait des colis Click & Collect dans la journée hors jours fériés du Lundi au Vendredi de 08h00 à 18h00.
08110 Carignan
Metropolitan France
| | |
| --- | --- |
| Mon. | 08h00 - 18h00 |
| Tue. | 08h00 - 18h00 |
| Wed. | 08h00 - 18h00 |
| Thu. | 08h00 - 18h00 |
| Fri. | 08h00 - 18h00 |
| Sat. | Fermé |
| Sun. | Fermé |
Vos derniers avis
Yellow propolis with organic hive Elixirs - Protection and defence...
Avis sur l'Herboristerie
Voir les avis sur l'herboristerie