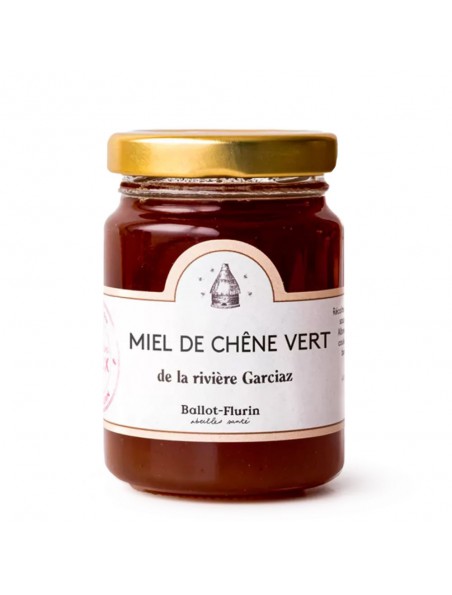 
Organic Holm Oak Honey 125g - Woody flavour and flowery notes, fortifying. -
Woody flavour and flowery notes. Fortifying. Organic honey grand cru monofloral wild made from the nectar of holm oak flowers. Rich in trace elements.

Harvested in Spain.
 2 In stock
credit_card Secure payments: Credit cards, PayPal and Bank transfer
storeFrench Organic Herbalist located in Charleville-Mézières (Ardennes, France)
shopping_cart Shipping within 24 hours, Delivery within 7 days

This organic honey is made from the nectar of the holm oak "Quercus ilex" flowers. Harvested in spring by a gentle beekeeper.
Preserved micro-terroir
Harvested near the river Almonte (Extremadura, western Spain)
Virtues & benefits
Fortifying
Very rich in trace elements, it is a tonic honey, fortifying the respiratory tract. Recommended in winter and during the cool seasons.
Smooth and dense honey, with a typical woody flavour and a flowery note.
This honey, of a very dark color and almost black in the liquid state, crystallizes after several months.
Recognizing a natural honey
Honey is always liquid when it is harvested. It crystallizes naturally after a certain time, if it is not heated. White mottling may appear on the surface (especially in winter): this visual sign indicates that your honey is truly pure and rustic. Accept these characteristics as a guarantee of real authenticity.
Rare and Solidarity Honey
- Produced and harvested as before in small quantities -
Solidarity and local trade with small independent beekeepers.
- French and Euro-regional harvesting area.
Healthy and good for the bees
- Gentle harvesting method that does not stress the bees.
- Harvesting without chemical repellents.
- Bees not treated with antibiotics, plants or homeopathy.
Harvesting at maturity
- Respect for the fundamental cosmic rhythms of nature.
- Manual uncapping with a knife.
- Not pasteurized, not heated above 35°C (natural temperature of the hive).
- Hand-potted on site at the honey house.
- Dynamised honey: long macerations and manual stirring which subtly reinforce its original virtues.
125g jar.
This site is not a medical site.
The advice, information, recommendations, properties, indications, dosage, precautions for use etc. are provided for information only.
Our advice cannot replace the advice of your doctor or therapist.
Under no circumstances does the information given on our site constitute a prescription.
Only your doctor can give you a precise diagnosis and recommend the use of a product.
If this is not the case, we cannot be held responsible for the inappropriate use of the products presented.
---
Click here to discover all the herbal products equivalent to Organic Holm Oak Honey 125g - Woody flavour and flowery notes, fortifying. - Ballot-Flurin of the category Organic honey from different plants
---
Discover also at the herbalist's shop all the products Ballot-Flurin

In the heart of the Hautes-Pyrénées, Ballot-Flurin is a family api-company founded and run by a woman, Catherine Flurin

Its energized apitherapy preparations are made in small batches, with love and full awareness, in its Bee Factory, the first organic and sensitive garden factory in the world

With GENTLE BEEKEEPING®, Ballot-Flurin fights for free bees by combating their disappearance. It protects their territories and reinforces their well-being and freedom beyond the official organic standards.
Louis Herboristerie Charleville-Mézières
36 rue de la république
08000 Charleville-Mézières
Metropolitan France
| | |
| --- | --- |
| Mon. | 14h00 - 19h00 |
| Tue. | 10h00 - 19h00 |
| Wed. | 10h00 - 19h00 |
| Thu. | 10h00 - 19h00 |
| Fri. | 10h00 - 19h00 |
| Sat. | 10h00 - 19h00 |
| Sun. | Fermé |
Louis Herboristerie Carignan ( Centre logistique )
12 Rue du Champ Raymond
Retrait des colis Click & Collect dans la journée hors jours fériés du Lundi au Vendredi de 08h00 à 18h00.
08110 Carignan
Metropolitan France
| | |
| --- | --- |
| Mon. | 08h00 - 18h00 |
| Tue. | 08h00 - 18h00 |
| Wed. | 08h00 - 18h00 |
| Thu. | 08h00 - 18h00 |
| Fri. | 08h00 - 18h00 |
| Sat. | Fermé |
| Sun. | Fermé |
Vos derniers avis
Organic Holm Oak Honey 125g - Woody flavour and flowery notes,...
Avis sur l'Herboristerie
Voir les avis sur l'herboristerie