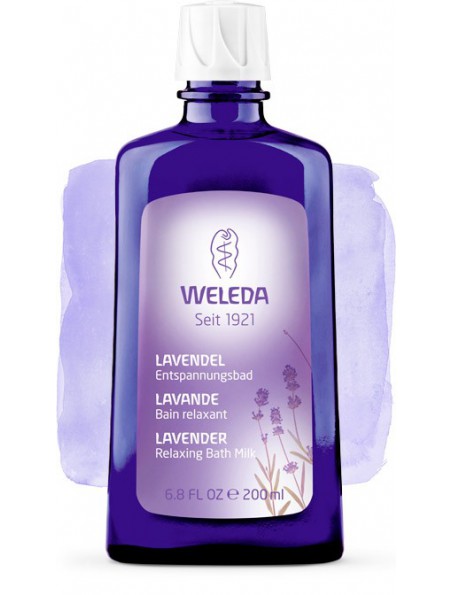 
Relaxing Bath with Lavender - Calm and serenity 200 ml - Weleda
This bath concentrates the sunny scents of the finest lavender from the Mediterranean regions

Theessential oil of lavender, with its soothing and calming properties, gives off a warm scent, conducive to relaxation

It is ideal for soothing, relieving tension, combating the effects of stress and nervousness and helps to regain calm and serenity.
 4 In stock
credit_card Secure payments: Credit cards, PayPal and Bank transfer
storeFrench Organic Herbalist located in Charleville-Mézières (Ardennes, France)
shopping_cart Shipping within 24 hours, Delivery within 7 days

Description:
This bath concentrates the sunny scents of the finest lavender from the Mediterranean regions

L'essential oil of lavender, with soothing and calming virtues The fragrance of this wine is warm and invigorating, conducive to relaxation

It is ideal for soothing, relieving tension, combating the effects of stress and nervousness and helps to recover calm and serenity.

Taken in the evening, at moderate heat, it facilitates sleep.

The Lavender Relaxation Bath is a beneficial treatment for body and mind, especially suitable for tense or stressed people and restless children.

Properties :
- • Restores inner balance and harmonizes.
- Helps to find sleep in case of nervous disorders.
- Relaxes in case of nervous anxiety, cramps in the lower abdomen, flatulence and menstrual disorders.
- For bathing, showering and washing, for compresses and wrapping.
- Does not foam.

Use:
Pour 3 to 5 capfuls of Relaxing Bath with Lavender Weleda in the bath water, with a water temperature of about 36° to 37°C.
For the shower, pour a few drops on the washcloth or thesponge and rub the wet skin.
For the toilet, for wraps or partial baths, add 1 to 2 capfuls per litre of warm water.

Tip:
Do not hesitate to combine this oil with the cream lavender shower gel !

Composition:
Water, essential oil of real lavender, toilet soap with olive oil.
Ingredients (INCI): water (aqua), potassium olivate, lavandula angustifolia (lavender) oil, linalool*, glyceryl oleate, limonene*, geraniol*.
*fromessential oils natural.
Dermatologically tested.

Packaging:
Bottle of 200 ml.

Brand:
In Celtic culture, health and illness were considered to be reflections of man's relationship with nature. They called " WeledaThe "Velleda" (or "Velleda") were women who had the gift of knowing the curative virtues of plants and of finding remedies

Natural substances are used in all its preparations, the practice of the bio-dynamic method for the cultivation of its medicinal plants, respect for the protection of species when gathering plants in the wild and consideration of nature protection and ecological requirements in all circumstances: this is also the philosophy of the Weleda.
Discover all the bath oils from the herbalist shop!

Click here for a list of products Weleda.
---
Click here to discover all the herbal products equivalent to Relaxing Bath with Lavender - Calm and serenity 200 ml - Weleda of the category Relaxing and invigorating bath products
---
Discover also at the herbalist's shop all the products Weleda
It is in the heart of Arlesheim and Schwäbisch-Gmünd, small Swiss and German villages, that Weleda was born and developed in 1921. The very rapid establishment in Alsace in 1924, close to the Swiss border, confirms the roots and the European dimension of the company.

Faithful for more than 100 years to this fundamental principle, they offer products exclusively from nature: first of all homeopathic and phytotherapeutic medicines, as well as cosmetic care. All their energy and know-how are mobilized to develop biodiversity, to care for the soil, to preserve the vitality of plants, to draw with respect from the diversity of nature and to transmit its curative virtues to human beings.

A player in the homeopathy and phytotherapy market and a precursor of natural and organic cosmetics, they are now a reference brand.

Weleda very quickly completed its offer with natural and organic cosmetic care products that have always aimed to preserve the balance of each person's body.

The coherent commitment of Weleda has led it to define high quality criteria beyond the required standards, in terms of certifications and labels:

NaTrue, the strictest international quality label applied to natural cosmetics
,UEBT, Union for Ethical BioTrade to guarantee sustainable supplies,
ISO 14001 standard for Weleda France in terms of environmental management.
Thus, from the field to the laboratory, to the finished product, the eco-responsible approach is well anchored in the culture of Weleda, which pursues its commitments every day through virtuous social and economic actions towards its employees, its region and the world.
Louis Herboristerie Charleville-Mézières
36 rue de la république
08000 Charleville-Mézières
Metropolitan France
| | |
| --- | --- |
| Mon. | 14h00 - 19h00 |
| Tue. | 10h00 - 19h00 |
| Wed. | 10h00 - 19h00 |
| Thu. | 10h00 - 19h00 |
| Fri. | 10h00 - 19h00 |
| Sat. | 10h00 - 19h00 |
| Sun. | Fermé |
Louis Herboristerie Carignan ( Centre logistique )
12 Rue du Champ Raymond
Retrait des colis Click & Collect dans la journée hors jours fériés du Lundi au Vendredi de 08h00 à 18h00.
08110 Carignan
Metropolitan France
| | |
| --- | --- |
| Mon. | 08h00 - 18h00 |
| Tue. | 08h00 - 18h00 |
| Wed. | 08h00 - 18h00 |
| Thu. | 08h00 - 18h00 |
| Fri. | 08h00 - 18h00 |
| Sat. | Fermé |
| Sun. | Fermé |
Vos derniers avis
Relaxing Bath with Lavender - Calm and serenity 200 ml - Weleda
Avis sur l'Herboristerie
Voir les avis sur l'herboristerie