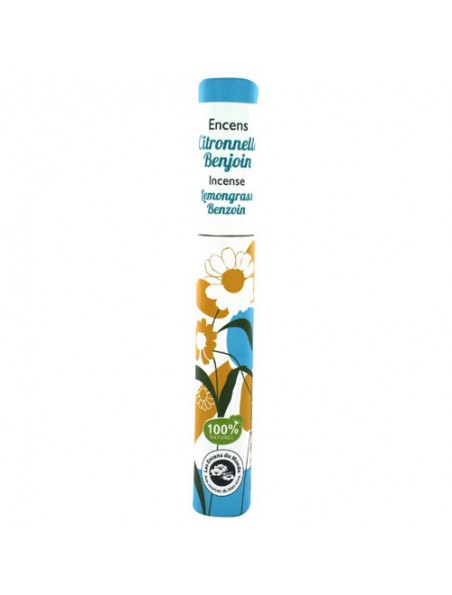 
Citronella Benzoin - Plant Incense 30 sticks - Les Encens du Monde
This plant incense, which combines the tonus of lemongrass with the amber chords of benzoin, will give your home a fresh, amber scent

Chamomile brings its bittersweet touch
 6 In stock
credit_card Secure payments: Credit cards, PayPal and Bank transfer
storeFrench Organic Herbalist located in Charleville-Mézières (Ardennes, France)
shopping_cart Shipping within 24 hours, Delivery within 7 days

Description:
This citronella and benzoin plant incense will bring fresh, amber scents to your home.
The Roman chamomile powder will be perfect for its bittersweet touch.

The special formulation of this incense allows for a very low smoke emission and is therefore perfectly suited to people who are indisposed to smoke.

A world innovation! Nine 100% natural incenses, whose special plant-based formulation allows for very little smoke emission. Natural and delicious scents with aromatic properties. An ecological and ethical approach.

Thanks to its special formulation allowing a very reduced emission of VOC, to its mixtures of plants with beneficial effects and to its manufacture made only from natural products, the vegetable incense is a 100% ecological, 100% natural and 100% transparent incense for the consumer.
It is the ideal incense for delicate people who do not like smoke in general and would tend not to use incense.

The 100% natural logo gives you the following guarantees
:- Manufactured in an environmentally friendly way.
- Sanwithout solvents, preservatives or synthetic products.

The plant incense is authenticated by the independent European control body I.C.E.A

Usage:
Light the end of the incense stick, then blow out the flame
Stick the stick in the the incense-holder to receive the ash.
Place the incense-holder on a flat, unwaxed, unvarnished surface, not exposed to draughts.

Precautions for use
Do not leave within the reach of children. Use in a ventilated room on a daily basis

Packaging
30 incense sticks of high tradition. 30 minutes of pleasure per stick.

Discover all the herbal incenses of the herbalist's shop !


Click here to obtain the list of Encens du Monde products.

---
Click here to discover all the herbal products equivalent to Citronella Benzoin - Plant Incense 30 sticks - Les Encens du Monde of the category Scented and purifying plant sticks
---
Discover also at the herbalist's shop all the products Les Encens du Monde
European specialist in quality incense for almost 30 years, Les Encens du Monde have set themselves the task of making incense known and appreciated by an ever-wider public

Les Encens du MondeOur mission is to promote the richness of cultures and traditions, and to refuse to reduce incense to a simple perfumed medium. The desire for naturalness, the search for spirituality, pleasure and olfactory journeys, these are the values that they defend on a daily basis while taking care to respect the planet and its inhabitants: Sustainable Development, Fair Trade and Ecology are at the very heart of our identity.

Real incense marketed under the brand name Les Encens du Monde are produced according to traditional manufacturing methods. The ingredients used are high quality natural raw materials, for a traditional method of manufacture; in total opposition to incense soaked in baths of solvents and synthetic perfumes that are generally available to the general public.

Incense has been used for centuries by the greatest civilizations around the world. It was used in Ancient Egypt, by the Greeks and Romans, by the Mayans, the Hebrews, India, China and Japan... and in France! Incense was, and still is, used for certain religious rites to pay homage to the Gods, to promote spirituality and to accompany prayer. In China, Tibet and India, doctors also used incense to relieve and heal. Today, incense is still used in Asia on a daily basis.
Louis Herboristerie Charleville-Mézières
36 rue de la république
08000 Charleville-Mézières
Metropolitan France
| | |
| --- | --- |
| Mon. | 14h00 - 19h00 |
| Tue. | 10h00 - 19h00 |
| Wed. | 10h00 - 19h00 |
| Thu. | 10h00 - 19h00 |
| Fri. | 10h00 - 19h00 |
| Sat. | 10h00 - 19h00 |
| Sun. | Fermé |
Louis Herboristerie Carignan ( Centre logistique )
12 Rue du Champ Raymond
Retrait des colis Click & Collect dans la journée hors jours fériés du Lundi au Vendredi de 08h00 à 18h00.
08110 Carignan
Metropolitan France
| | |
| --- | --- |
| Mon. | 08h00 - 18h00 |
| Tue. | 08h00 - 18h00 |
| Wed. | 08h00 - 18h00 |
| Thu. | 08h00 - 18h00 |
| Fri. | 08h00 - 18h00 |
| Sat. | Fermé |
| Sun. | Fermé |
Vos derniers avis
Citronella Benzoin - Plant Incense 30 sticks - Les Encens du Monde
Avis sur l'Herboristerie
Voir les avis sur l'herboristerie