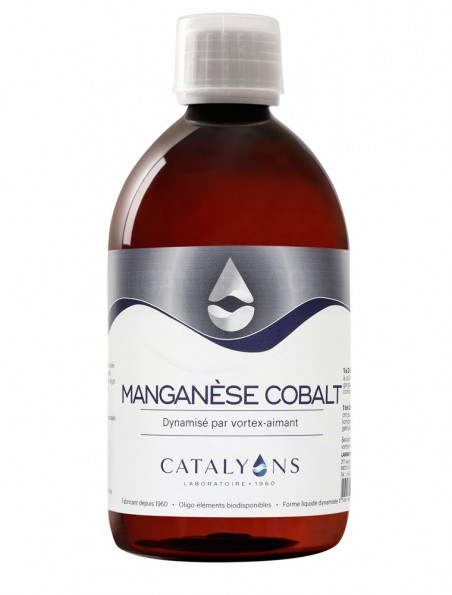 
Manganese and Cobalt - Trace Elements 500 ml - Catalyons
Manganese-Cobalt Laboratory Catalyons is a moisturizing lotion ideal for all skin types and applicable from head to toe.
credit_card Secure payments: Credit cards, PayPal and Bank transfer
storeFrench Organic Herbalist located in Charleville-Mézières (Ardennes, France)
shopping_cart Expédition sous 24h à partir de 3,99€. Offerte à partir de 75€

Description:
Manganese-Cobalt of the laboratory Catalyons is a moisturizing lotion ideal for all skin types and applicable from head to toe.

Usage:
1 to 3 times a day: in gargle, in compress.

Composition:
aqua, manganese dioxide, cobalt gluconate
Concentration: 2 mg/L manganese, 2 mg/L cobalt.

Sanno phthalates, no Bisphenol A, no heavy metals, no chlorides.

Special precautions:
- Shake before use. - Protect from sun and at room temperature. - When taking several trace elements, selenium should be taken away from the other trace elements

Packaging:
Bottle of 500 ml.

Brand:
The Catalyons are natural ionized trace elements. They are formed by free ions in solution in purified water, the concentration of which is related to the solubility of the element. The Catalyons are obtained by electro-catalytic dissolution of metals in purified water, resulting in the formation of free ions of these metals. This gives them a high degree of biological assimilation.

The Catalyons contain no alcohol, no lactose, no gluten, no synthetic coloring agent, no paraben.

No toxicity hazard: the Catalyonsthese natural trace elements, in the form of free ions, are not dangerous due to their concentration. Everyone can take the Catalyonsfrom the youngest to the oldest.

Catalysts are not medicines: the Catalyons are in fact neither chemical nor pharmaceutical in essence, as nature is able to produce them occasionally when all the necessary parameters are present. Because of their ionic presentation, their concentration and the fact that they do not contain any chemical compounds, the Catalyons cannot be considered as medicines. Catalysts are catalytic supplements.

All the Catalyons can be taken without medical advice. These are dietary products and their consumption is ultimately the result of a choice of balanced diet. They do not replace medical treatment and advice from a health professional can only help you to better understand your needs.

Catalyst efficiency: the Catalyons are real enzymatic foods, factors of dietary balance because they provide the organism with the catalysts essential to life. They are in fact made up of free ions and can therefore be fully assimilated without any prior dissociation work as is the case with trace element salts. The Catalyonsby their catalytic action, maintain our defense system and promote the functioning of the human body.

The Catalyons find their application in dietetics, body hygiene, cosmetics, veterinary supplements and botany due to their unique ionized presentation and the well-known properties of trace elements.

Made in France.

Discover all the trace elements of the herbalist!

The advice, information, recommendations, properties, indications, dosage, precautions for use etc. are provided for information purposes only.
---
Click here to discover all the herbal products equivalent to Manganese and Cobalt - Trace Elements 500 ml - Catalyons of the category The trace elements necessary for the whole family
---
Discover also at the herbalist's shop all the products Catalyons

The laboratory Catalyons is a family business with 50 years of experience in the creation of ionized catalysts

Raymond Valtat, who discovered these solutions, realized that metals dissolve in water in the form of ions

His work led to the development of colloidal silver, copper-gold-silver and Germanium.
Louis Herboristerie Charleville-Mézières
36 rue de la république
08000 Charleville-Mézières
Metropolitan France
| | |
| --- | --- |
| Mon. | 14h00 - 19h00 |
| Tue. | 10h00 - 19h00 |
| Wed. | 10h00 - 19h00 |
| Thu. | 10h00 - 19h00 |
| Fri. | 10h00 - 19h00 |
| Sat. | 10h00 - 19h00 |
| Sun. | Fermé |
Louis Herboristerie Carignan ( Centre logistique )
12 Rue du Champ Raymond
08110 Carignan
Metropolitan France
| | |
| --- | --- |
| Mon. | 08h00 - 18h00 |
| Tue. | 08h00 - 18h00 |
| Wed. | 08h00 - 18h00 |
| Thu. | 08h00 - 18h00 |
| Fri. | 08h00 - 18h00 |
| Sat. | Fermé |
| Sun. | Fermé |
Vos derniers avis
Manganese and Cobalt - Trace Elements 500 ml - Catalyons
Avis sur l'Herboristerie
Voir les avis sur l'herboristerie