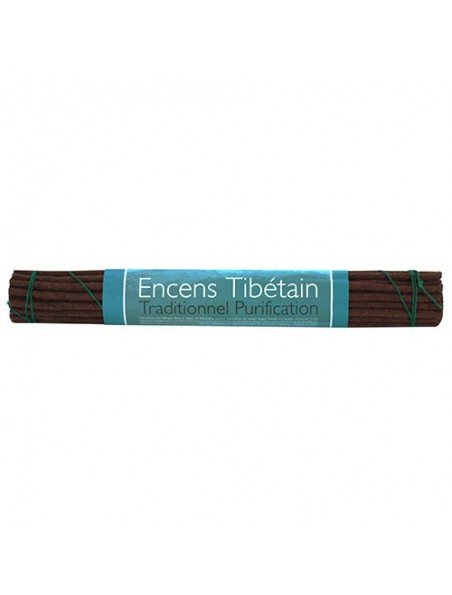 
Relaxation Traditional Tibetan Incense - 28 sticks - Les Encens du Monde
Idealincense for purification!

A Buddhist land with shamanistic traditions of a people in close communication with nature, Tibetan incense carries the strength ofHimalaya and the enlightened consciousness of its sages

28 sticks of 1 hour.
credit_card Secure payments: Credit cards, PayPal and Bank transfer
storeFrench Organic Herbalist located in Charleville-Mézières (Ardennes, France)
shopping_cart Expédition sous 24h à partir de 3,99€. Offerte à partir de 75€

European specialist in quality incense for almost 30 years, Les Encens du Monde have set themselves the task of making incense known and appreciated by an ever-wider public

Les Encens du MondeOur mission is to promote the richness of cultures and traditions, and to refuse to reduce incense to a simple perfumed medium. The desire for naturalness, the search for spirituality, pleasure and olfactory journeys, these are the values that they defend on a daily basis while taking care to respect the planet and its inhabitants: Sustainable Development, Fair Trade and Ecology are at the very heart of our identity.

Real incense marketed under the brand name Les Encens du Monde are produced according to traditional manufacturing methods. The ingredients used are high quality natural raw materials, for a traditional method of manufacture; in total opposition to incense soaked in baths of solvents and synthetic perfumes that are generally available to the general public.

Incense has been used for centuries by the greatest civilizations around the world. It was used in Ancient Egypt, by the Greeks and Romans, by the Mayans, the Hebrews, India, China and Japan... and in France! Incense was, and still is, used for certain religious rites to pay homage to the Gods, to promote spirituality and to accompany prayer. In China, Tibet and India, doctors also used incense to relieve and heal. Today, incense is still used in Asia on a daily basis.
Louis Herboristerie Charleville-Mézières
36 rue de la république
08000 Charleville-Mézières
Metropolitan France
| | |
| --- | --- |
| Mon. | 14h00 - 19h00 |
| Tue. | 10h00 - 19h00 |
| Wed. | 10h00 - 19h00 |
| Thu. | 10h00 - 19h00 |
| Fri. | 10h00 - 19h00 |
| Sat. | 10h00 - 19h00 |
| Sun. | Fermé |
Louis Herboristerie Carignan ( Centre logistique )
12 Rue du Champ Raymond
08110 Carignan
Metropolitan France
| | |
| --- | --- |
| Mon. | 08h00 - 18h00 |
| Tue. | 08h00 - 18h00 |
| Wed. | 08h00 - 18h00 |
| Thu. | 08h00 - 18h00 |
| Fri. | 08h00 - 18h00 |
| Sat. | Fermé |
| Sun. | Fermé |
Vos derniers avis
Relaxation Traditional Tibetan Incense - 28 sticks - Les Encens du...
Avis sur l'Herboristerie
Voir les avis sur l'herboristerie