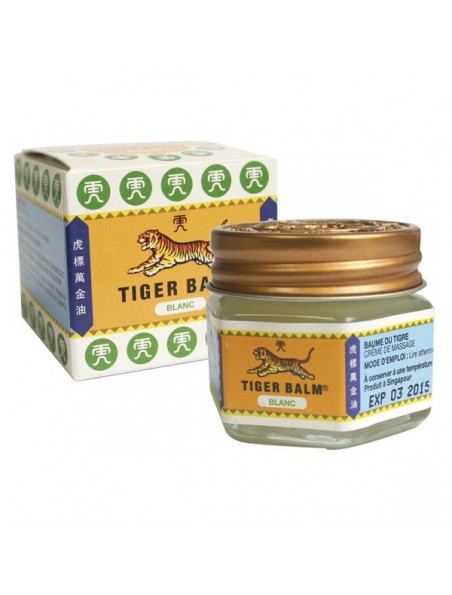 
White Tiger Balm - 19 grams jar - Tiger Balm
Headaches.

Nasal congestion.

Insect bites
 19 In stock
credit_card Secure payments: Credit cards, PayPal and Bank transfer
storeFrench Organic Herbalist located in Charleville-Mézières (Ardennes, France)
shopping_cart Shipping within 24 hours, Delivery within 7 days
This essential first aid kit takes its name from the strength of this famous feline, which can be compared to the powerful action of the balm.

Tiger Balm offers a pleasant sensation of heat followed by a sensation of cold by massage.

Quickly absorbed by your skin, it does not leave a greasy feeling.
An ancestral formula that has proven itself in over 70 countries!

This balm is ideal to apply before, during and after sport.

Properties:
Tiger Balm comes in two varieties:
- Red Tiger Balm - contains Chinese cinnamon oil, used for muscular pains and contractures;
- White Tiger Balm- used for headaches, nasal congestion and insect bites.



Use:
Adults: apply locally 3 to 4 times a day.
Massage gently in a circular motion until the product is completely absorbed.

Composition :
Petrolatum, Paraffin, Camphor, Menthol, Melaleuca cajeputi oil, Mentha arvensis oil, Eugenia caryophyllus oil, Eugenol, Limonene, Linalool. Allergens: eugenol, limonene, linalool. Solvents: petroleum jelly, paraffinGuaranteed

paraben-free, PEG- and PPG-free, no synthetic colorants or fragrances, no raw materials of animalorigin.



Special precautions:
For external use only. Do not use on children under 7 years old, pregnant or breastfeeding women. Avoid contact with eyes. May cause allergic reactions on sensitive skin, test on a small area before use. Do not use in conjunction with hot water bottles or heating pads. Shelf life 12 months after opening. Store at temperatures below 30°C.

Packaging:
19 grams jar.

Discover the whole range of Tiger Balm !



This site is not a medical site.
The advice, information, recommendations, properties, indications, dosage, precautions for use etc. are provided for information purposes only.
Our advice cannot replace the advice of your doctor or therapist.
Under no circumstances does the information given on our site constitute a prescription.
Only your doctor can give you a precise diagnosis and recommend the use of a product.
If this is not the case, we cannot be held responsible for the inappropriate use of the products presented.
---
Click here to discover all the herbal products equivalent to White Tiger Balm - 19 grams jar - Tiger Balm of the category Tiger Balm
---
Discover also at the herbalist's shop all the products Tiger Balm
In 1870, Aw Chu Kin, a Chinese herbalist working for the emperor's court, left China for Burma and took with him a herbal formulation. Afterwards, he opened his medicine shop, "Eng Aun Tong". In 1908, his two sons Aw Boon Haw ("Gentle Tiger") and Aw Boon Par ("Gentle Leopard") took over the business and moved it to Singapore. As the business expanded to other countries, the history and reputation of Tiger Balm® was built.

Its unique formulation offers a holistic well-being inspired by oriental wisdom. Available in a complete range of products, Tiger Balm® has been able to offer a variety of formats and formulations to adapt to your different needs.
Louis Herboristerie Charleville-Mézières
36 rue de la république
08000 Charleville-Mézières
Metropolitan France
| | |
| --- | --- |
| Mon. | 14h00 - 19h00 |
| Tue. | 10h00 - 19h00 |
| Wed. | 10h00 - 19h00 |
| Thu. | 10h00 - 19h00 |
| Fri. | 10h00 - 19h00 |
| Sat. | 10h00 - 19h00 |
| Sun. | Fermé |
Louis Herboristerie Carignan ( Centre logistique )
12 Rue du Champ Raymond
Retrait des colis Click & Collect dans la journée hors jours fériés du Lundi au Vendredi de 08h00 à 18h00.
08110 Carignan
Metropolitan France
| | |
| --- | --- |
| Mon. | 08h00 - 18h00 |
| Tue. | 08h00 - 18h00 |
| Wed. | 08h00 - 18h00 |
| Thu. | 08h00 - 18h00 |
| Fri. | 08h00 - 18h00 |
| Sat. | Fermé |
| Sun. | Fermé |
Vos derniers avis
White Tiger Balm - 19 grams jar - Tiger Balm
Avis sur l'Herboristerie
Voir les avis sur l'herboristerie