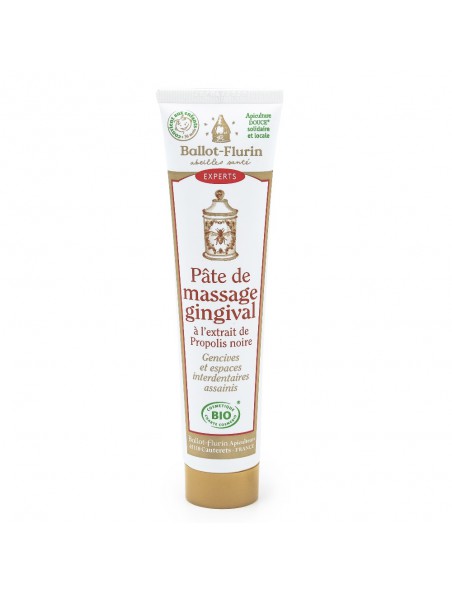 
Organic Gingival Massage Paste - Soothing and Cleansing Black Propolis -
For the health of your gums, the Organic gingival massage paste from Ballot-Flurin is a very natural "Ligne Experts" treatment, with French black propolis

This formula offers you an effective and gentle massage, with its natural cleaning and polishing agents that remove dental plaque through a non-aggressive mechanical action

 Not in stock
Our alternatives while waiting for the return of this product:
credit_card Secure payments: Credit cards, PayPal and Bank transfer
storeFrench Organic Herbalist located in Charleville-Mézières (Ardennes, France)
shopping_cart Shipping within 24 hours, Delivery within 7 days

Description:
This organic gingival massage paste allows the sanitation of sensitive gums thanks to the antibacterial properties of the propolis which reduces the signs of gum inflammation (redness, bleeding) and cleanses interdental spaces

This formula provides an effective and gentle massage, with natural cleaning and polishing agents that remove plaque from teeth by a non-aggressive mechanical action.

Maintains the natural balance of fragile mucous membranes.

Sanno added salt, no fluoride, no preservatives and no colouring

Outstanding quality
- Tested under stomatological control: it soothes sensitive gums (73%), relieves irritation (71%), cleans gums and interdental spaces (71%), reduces bleeding and redness (69%).
- Dynamised French propolis, black variety from the Pyrenees, certified 100% organic, from our apiaries and local micro-terroirs.
- Harvested on site in the countryside with "low-tech" extraction processes that are gentle and non-polluting.
- Patent registered (n°0756648).
- Handmade production limited to 270 units per month.

Use:
Apply half a hazelnut of paste to your finger and massage from the gum to the tooth
Leave it on, then brush your teeth and interdental spaces. Rinse off.
Can be used daily.

Composition:
Vegetable glycerine, carbonate of calciummaltitol syrup, lemon balm* 15%, water, peppermint* 4%, silica, black propolis extract* 3.1%, sodium cocoyl glutamate, carrageenan, sage* 0.1%

INCI : GLYCERIN, CALCIUM CARBONATE, HYDROGENATED STARCHHYDROLISATE, MELISSA OFFICINALIS DISTILLATE*, AQUA, MENTHA PIPERITA WATER*, SILICA, ALCOHOL*, PROPOLIS*, SODIUM COCOYL GLUTAMATE, CARRAGEENAN, SALVIA OFFICINALIS OIL*
*ingredients from organic farming

100% of the total ingredients are of natural origin, 22.2% of which are organically grown. Controlled manufacturing process. Characteristics certified by Qualité-France SAS - Le Guillaumet - 92 046 PARIS LA DÉFENSE. According to the I.305 standard

Suitable for children over 36 months. No animal testing.

Label:


Packaging:
75ml tube Sans over-packaging to preserve the environment

Brand:
Expertise Ballot-Flurin is based on a naturalist approach and advocates the observation of nature and the application of natural products from our environment. Bees show us that it is possible to create effective, non-polluting preparations without the common side effects of chemical pharmacopoeia.

The result of constant research in honey production, the Abeilles &amp Santee Ballot-Flurin now offers care and hygiene products from the hive, 100% natural and certified organic.

Discover the whole range of honeys and organic cosmetics from Catherine Flurin!
---
Click here to discover all the herbal products equivalent to Organic Gingival Massage Paste - Soothing and Cleansing Black Propolis - Ballot-Flurin of the category Vegetable toothpaste in tube or solid
---
Discover also at the herbalist's shop all the products Ballot-Flurin

In the heart of the Hautes-Pyrénées, Ballot-Flurin is a family api-company founded and run by a woman, Catherine Flurin

Its energized apitherapy preparations are made in small batches, with love and full awareness, in its Bee Factory, the first organic and sensitive garden factory in the world

With GENTLE BEEKEEPING®, Ballot-Flurin fights for free bees by combating their disappearance. It protects their territories and reinforces their well-being and freedom beyond the official organic standards.
Louis Herboristerie Charleville-Mézières
36 rue de la république
08000 Charleville-Mézières
Metropolitan France
| | |
| --- | --- |
| Mon. | 14h00 - 19h00 |
| Tue. | 10h00 - 19h00 |
| Wed. | 10h00 - 19h00 |
| Thu. | 10h00 - 19h00 |
| Fri. | 10h00 - 19h00 |
| Sat. | 10h00 - 19h00 |
| Sun. | Fermé |
Louis Herboristerie Carignan ( Centre logistique )
12 Rue du Champ Raymond
Retrait des colis Click & Collect dans la journée hors jours fériés du Lundi au Vendredi de 08h00 à 18h00.
08110 Carignan
Metropolitan France
| | |
| --- | --- |
| Mon. | 08h00 - 18h00 |
| Tue. | 08h00 - 18h00 |
| Wed. | 08h00 - 18h00 |
| Thu. | 08h00 - 18h00 |
| Fri. | 08h00 - 18h00 |
| Sat. | Fermé |
| Sun. | Fermé |
Vos derniers avis
Organic Gingival Massage Paste - Soothing and Cleansing Black...
Avis sur l'Herboristerie
Voir les avis sur l'herboristerie
Related articles on blog
No related article on blog