Recipe against the acidity of the stomach - Les Coffrets de l'Herboriste
This recipe combining 3 essential oils will be used in the treatment of heartburn.
One of product is no longer available. This pack cant be purchased
Pack description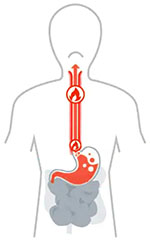 Description:
Make this recipe yourself to help with stomach acid!

Composition of the box :

- 1 bottle ofessential oil of Organic Chamomile Noble of 5 ml.
- 1 bottle ofessential oil of Peppermint Bio of 10 ml.
- 1 bottle of essential oil of exotic Basil Bio of 10 ml.
- 1 box of 30 neutral tablets.
- 1 empty bottle of 10 ml with codigoutte.
Use:

In the 10 ml bottle, mix :
20 drops of Chamomile essential oil.
20 drops of peppermint essential oil.
10 drops of exotic basil essential oil.
Put 2 drops of the mixture on a neutral carrier tablet to be swallowed just after meals as needed.
Special precautions :
This mixture should not be used during pregnancy, breastfeeding, in children under 12 years of age, in cases of hypertension, obstruction of the bile ducts and inflammation of the gallbladder, in epileptic subjects.
Little advice :
2 factors are frequently linked to this pathology: excessive stress and an unsuitable eating habit. In this situation, this synergy ofessential oils will be even more effective if the 2 drops are put inclay which you can drink morning and evening until you feel better.
In the evening, mix 1 tablespoon ofgreen (plastic or wooden spoon as theclay corrode the metal) in a large glass of water (250ml). Let it sit overnight. In the morning, pour 2 drops of the mixture and drink the clay water that will have settled in the bottom of the glass during the night and that you will not drink. Prepare the clay water in the morning for the evening intake.
Caution: green clay cannot be used in case of intestinal obstruction, constipation and medication.
The advice, information, recommendations, properties, indications, dosage, precautions for use etc. are provided for information purposes only.
This formula is derived from the practical guide to family and scientific Aromatherapy by Dominique Baudoux.

Discover all the boxes of the Herbalist !
Vos derniers avis
Recipe against the acidity of the stomach - Les Coffrets de...
Avis sur l'Herboristerie
Voir les avis sur l'herboristerie