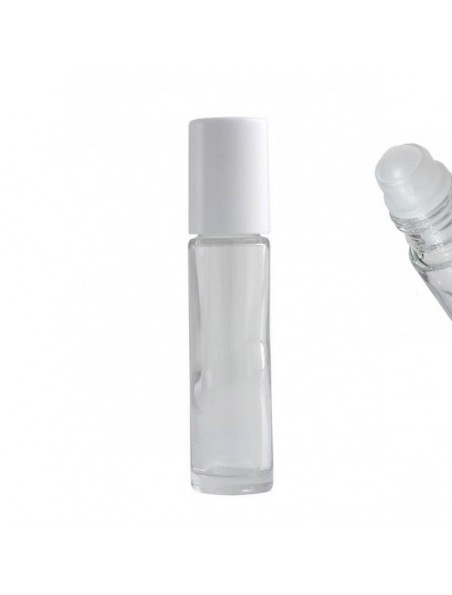 
10 ml white glass roller ball applicator
This applicator is perfect for dilutingessential oils invegetable oil when it is necessary to act on a very targeted part of the skin or when you want to make an oleo-pharmaceutical to exploit the psycho-emotional virtues of essential oils.
 1 In stock
credit_card Secure payments: Credit cards, PayPal and Bank transfer
storeFrench Organic Herbalist located in Charleville-Mézières (Ardennes, France)
shopping_cart Shipping within 24 hours, Delivery within 7 days
Description:
This applicator with ball is perfect to carry out dilutions ofessential oils invegetable oil when it is necessary to act on a part of very targeted skin (for example tea tree with 10 % in oil of jojoba in the event of acne) or when one wishes to make an oleoparfum to exploit the psycho-emotional virtues of essential oils as well as possible.

Strong personalities, such as rose, jasmine, vetiver, nard, Roman chamomile, helichrysum, when used with subtle intention, are all the more effective as they remain discreet

Their share in relation to the total is generally between 3 and 5%

The oleo perfume is applied to the inside of the wrists, the neck, the solar plexus... always in small touches.

Choose the oily base which could be
- hazelnut for its fineness-
sweet almond if your skin is sensitive-
apricot for its unctuousness-
jojoba, able to keep for a long time...





You can protect your oleo perfume from going rancid by adding vitamin E (tocopherol): 1 drop for 10 ml, 2 drops for 30 ml.

Packaging:
10 ml white glass rollerball type applicator.

Discover the whole range of equipment necessary for the realization of your cosmetics or your mixtures!
---
Click here to discover all the herbal products equivalent to 10 ml white glass roller ball applicator of the category Material to make your cosmetics, the design of your oils
---
Discover also at the herbalist's shop all the products Bioflore

For more than 25 years, Bioflore has lived by the rhythm of plants, seasons and aromatic scents. Our small team of herbalists carefully searches for natural ingredients, weaving links with a network of faithful producers. We always choose organic products, the most local production possible and products of the highest quality. Every day, we work to offer you products that make sense, that are kind to your skin and to nature, at a price that is accessible to all.

Bioflore is a company in the line of the liberated companies. They choose joy at work, trust and the development of each team member. Their goal is not to create a multinational company but to have a serene development, which allows them to remunerate the work of their producers and their team at its fair value!
Louis Herboristerie Charleville-Mézières
36 rue de la république
08000 Charleville-Mézières
Metropolitan France
| | |
| --- | --- |
| Mon. | 14h00 - 19h00 |
| Tue. | 10h00 - 19h00 |
| Wed. | 10h00 - 19h00 |
| Thu. | 10h00 - 19h00 |
| Fri. | 10h00 - 19h00 |
| Sat. | 10h00 - 19h00 |
| Sun. | Fermé |
Louis Herboristerie Carignan ( Centre logistique )
12 Rue du Champ Raymond
Retrait des colis Click & Collect dans la journée hors jours fériés du Lundi au Vendredi de 08h00 à 18h00.
08110 Carignan
Metropolitan France
| | |
| --- | --- |
| Mon. | 08h00 - 18h00 |
| Tue. | 08h00 - 18h00 |
| Wed. | 08h00 - 18h00 |
| Thu. | 08h00 - 18h00 |
| Fri. | 08h00 - 18h00 |
| Sat. | Fermé |
| Sun. | Fermé |
Vos derniers avis
10 ml white glass roller ball applicator
Avis sur l'Herboristerie
Voir les avis sur l'herboristerie