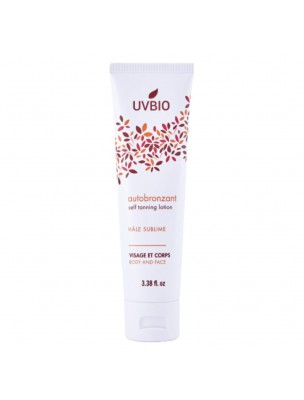 The Organic Self-Tanner from the laboratory UV Bio is ideal for all those who want a progressive tan and a natural tan. [...]
L10
The Organic Self-Tanner from the laboratory UV Bio is ideal for all those who want a progressive tan and a natural tan. It does not leave any orange mark but adorns your skin with a beautiful golden tan.

To be used all year round, it allows you to warm up your complexion in winter, to keep a radiant and sun-kissed complexion in spring and summer if you do not wish to expose yourself to the sun. At the end of the summer it is perfect to prolong your tan while keeping your skin deeply moisturized.

It melts perfectly into the skin, without any unpleasant smell ! And yes, UVBIO Organic Self-Tanner is anything but chemical, so you will find a soft and fresh smell of lemongrass.

The self-tanner does not contain synthetic ingredients, parabens, dyes or perfume. It is certified organic by Ecocert and Vegan by Vegan Society.