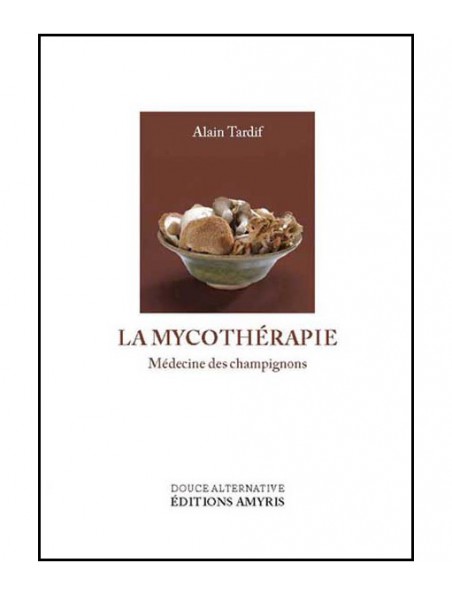 
Mycotherapy - Mushroom Medicine 188 pages - Alain Tardif
The girolle, the cepe de Bordeaux, the button mushroom, the trumpet mushroom, the oyster mushroom, as well as many species of edible mushrooms, common in the woods and even sold in the shops, will contribute to maintaining your health
 Not in stock
Our alternatives while waiting for the return of this product:
credit_card Secure payments: Credit cards, PayPal and Bank transfer
storeFrench Organic Herbalist located in Charleville-Mézières (Ardennes, France)
shopping_cart Shipping within 24 hours, Delivery within 7 days
Description:
Mushrooms are used in China and Japan as foods of long life, prolonged youth, and general tonus such as Shiitake(Lentinus edodes). And yet in the West, the mushroom remains the poor relation in the field of natural care. The chanterelle, the cepe de Bordeaux, the mushroom of Paris, the trumpet of the dead, the oyster mushroom, while many species of edible mushrooms, common in the woods and even commonly sold in the shops, will help maintain your health.

Book of 188 pages.

The author
Alain Tardif has been a naturopath since 1996, after studying naturopathy for three years with Robert Masson. He discovered a holistic approach based on the study of the relationship between energy and matter, which led him to a ternary vision of the human being and his health, according to knowledge that goes back to the highest antiquity, and which therefore relies on the most fundamental bases of our knowledge (Pythagoras, the Essenes, Ayurveda, Druid knowledge).

However, through his scientific studies, Alain Tardif has also incorporated the most modern knowledge in the fields of physiology, cellular biology and anatomy into his naturopathic teaching. Alain Tardif's naturopathic method is therefore a method that brings together the experience of the most renowned naturopaths, his own experience, modern knowledge and the knowledge of the Ancients.

Alain Tardif has also written several books, an interactive health cooking software and created several lines of plant-based products.
Discover the library of herbal medicine!


Click here for a list of books published by Amyris.

---
Click here to discover all the herbal products equivalent to Mycotherapy - Mushroom Medicine 188 pages - Alain Tardif of the category The natural library of our herbalist's shop
---
Discover also at the herbalist's shop all the products Livres
Louis Herboristerie Charleville-Mézières
36 rue de la république
08000 Charleville-Mézières
Metropolitan France
| | |
| --- | --- |
| Mon. | 14h00 - 19h00 |
| Tue. | 10h00 - 19h00 |
| Wed. | 10h00 - 19h00 |
| Thu. | 10h00 - 19h00 |
| Fri. | 10h00 - 19h00 |
| Sat. | 10h00 - 19h00 |
| Sun. | Fermé |
Louis Herboristerie Carignan ( Centre logistique )
12 Rue du Champ Raymond
Retrait des colis Click & Collect dans la journée hors jours fériés du Lundi au Vendredi de 08h00 à 18h00.
08110 Carignan
Metropolitan France
| | |
| --- | --- |
| Mon. | 08h00 - 18h00 |
| Tue. | 08h00 - 18h00 |
| Wed. | 08h00 - 18h00 |
| Thu. | 08h00 - 18h00 |
| Fri. | 08h00 - 18h00 |
| Sat. | Fermé |
| Sun. | Fermé |
Vos derniers avis
Mycotherapy - Mushroom Medicine 188 pages - Alain Tardif
Avis sur l'Herboristerie
Voir les avis sur l'herboristerie